The pioneer "cracker" village is a collection of buildings that portray life on the Florida frontier. The village is an assortment of historic and replica structures typical of the 1800's and includes several cabins, a one-room schoolhouse, blacksmith shop, sugar cane mill and syrup kettle, wood-fired pottery kiln and a replica Seminole Indian camp.
Barefoot Willy's Cabin (1830s)
Replica of a small pioneer cabin dating to the 1830s. During the Florida Territorial Period (1821-1845) pioneers had few luxuries. Small cabins were built using hewn logs and hand-split wooden shake shingles. Often the same logs cut to clear farm fields were used to build the first cabin.
Meals were cooked over a small hearth or outdoors, and the loft provides a small sleeping space upstairs. A primitive "mud cat" fireplace and chimney is built from wood and clay. The chimney is designed to be pulled away from the house in case of fire.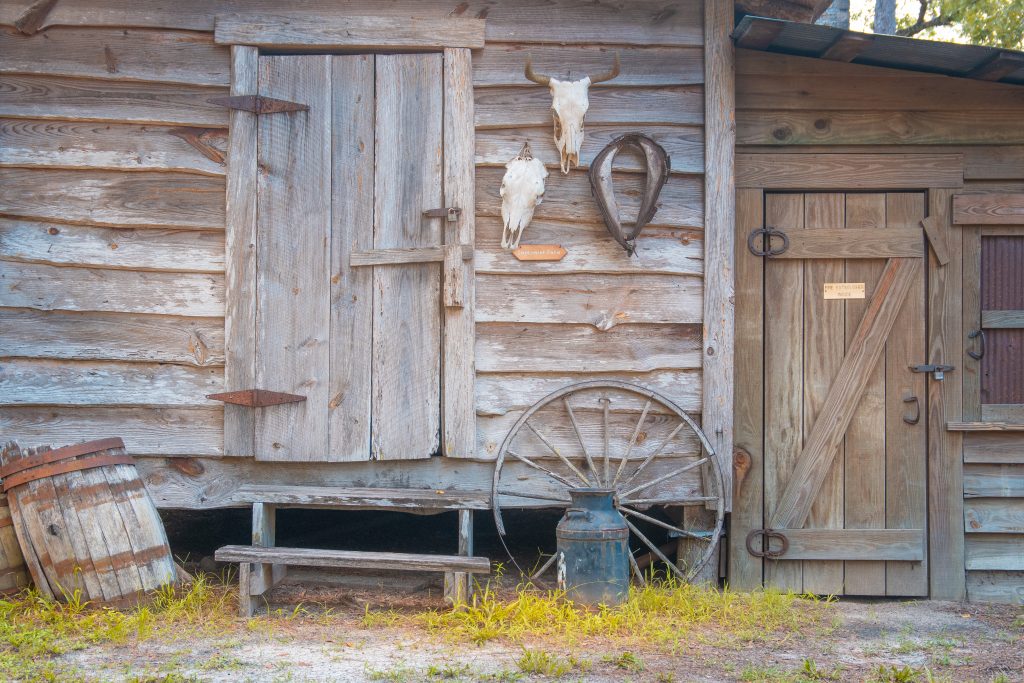 Blacksmith Shop and Tool Shed
Raw metal and tools were hard to come by on the frontier and blacksmiths were very important to settlers. Raw iron and steel were brought in by train or riverboat and made into implements necessary for survival – plows, axes, nails, horseshoes, chains, hinges and the like.
Tools would be repaired over and over and when finally worn out, recycled into something else. The forge was fired with either coal brought in from outside Florida or local hardwood charcoal.
Sugar Cane Kettle and Mill
In the fall when sugar cane was harvested, syrup making was a communal and social event. Cut cane was squeezed in a mill (powered by a draft animal) to produce juice. The raw juice was then boiled down into syrup in a cast iron kettle. Syrup could be processed further into raw brown sugar, which was useful for cooking and preserving food.
During pioneer times, sugar cane was the only source of sugar. Approximately ten gallons of raw sugar cane juice was needed to make one gallon of syrup. Between "boilings," the kettle could also be used as a large kettle to do laundry and process butchered hogs.
Godwin Family Cracker House (1890s)
This home is a replica of the simple cracker house where builder Freeman Godwin was raised in what is now the Ocala National Forest. The house is built from rough sawn pine, has a metal roof and is heated by a wood-burning stove.
A "dog-trot," or breezeway, connects a separate kitchen, protecting the main house from fire and the heat of the kitchen. Wooden shutters cover open windows and mosquito netting over beds provided protection from insects at night.
Mr. Godwin was instrumental in establishing this replica pioneer cracker village. His sugar cane kettle and mill are located behind this house and are still used to make cane syrup every fall.
Hinton Family House (1870-1880)
Authentic cracker style house built by J. L. Hinton near the Ocklawaha River in the 1870's or 1880's. The home was moved south of the state park around 1900 and was later donated by the MacAteer Family and relocated to the museum grounds in 2000.
The original house consisted of the structure with the fireplace facing the garden and likely had a wood shingle roof and separate kitchen building. The wing with the indoor kitchen was added at a later date. Sawn lumber, the brick chimney, glass windows and the indoor kitchen would have made this a luxurious building it its day. The house is now decorated to portray a 1930s rural farmstead.
MacIvey Cabin (1860s)
Named after the MacIvey Family that homesteaded the Big Scrub area of what is now the Ocala National Forest in the book The Land Remembered, this home is constructed with authentic hand-hewn logs from North Carolina dating to the mid-1800s. The house includes a large loft and brick cooking hearth to accommodate a growing family.
Typical outbuildings for a home like this would have included a corn crib, barn, outhouse and animal pens. The construction of this log home was made possible with the generous support of the Felburn Foundation.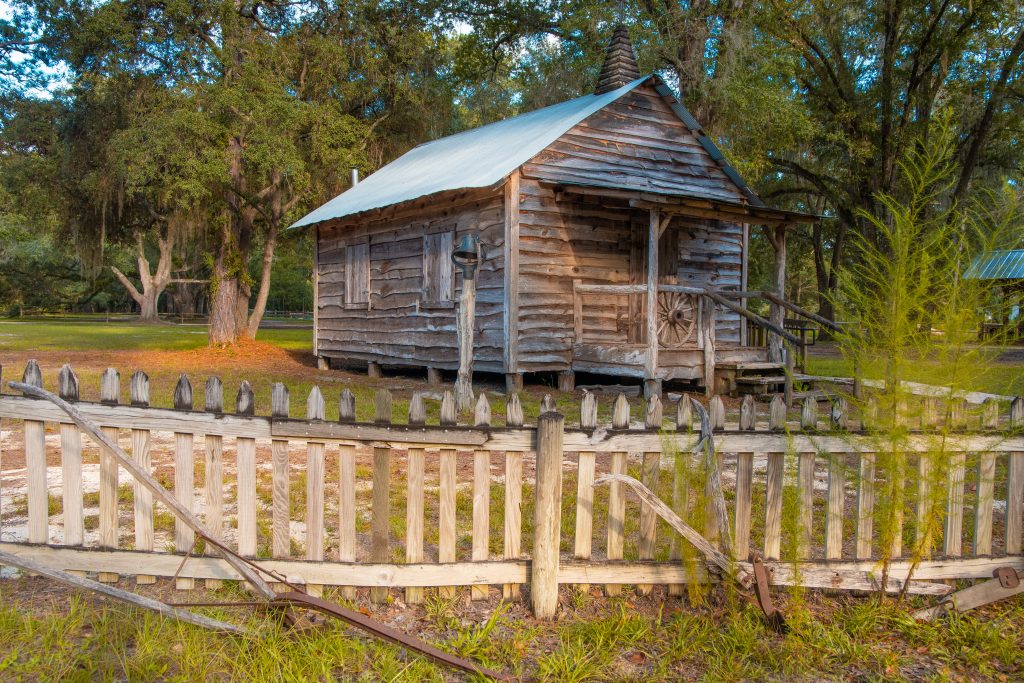 Schoolhouse and Church (1890s)
The family of Freeman Godwin and numerous volunteers built this replica of a one-room pioneer schoolhouse and church. The building is built with rough sawn wood from a single large sand pine.
Children studied basics such as reading, writing and arithmetic and often walked miles a day to attend class. School was not required and classes were often scheduled around the planting and harvesting of crops. Buildings such as these also served as community meeting houses, seeing social gatherings on Saturdays, and church services on Sundays.
Seminole Camp
The collection of Seminole buildings at the Silver River Museum is a recreation of a small traditional South Florida camp, where an extended family lived together. The kitchen and cook fire was the center of the camp. Individual "chickees" or houses, covering raised platforms, were for sleeping, sewing, and making crafts. Smoke form the cooking fire kept insects away during the day and mosquito nets were essential for sleeping at night.
These buildings were built by Seminole and Miccosukee craftsmen. Tribal members from South Florida use the camp each year during special events to teach visitors about traditional Seminole and Miccosukee culture and history.
Silver Springs School (1930-1964)
African-American students attended classes here during segregation from 1930 to 1964. Few of these buildings remain and they are an important part of Florida History. The school was found with the original chalkboards, lights, bulletin boards, water pump and fire extinguisher. Several old textbooks and a student desk were also left behind by the last teacher.
Mrs. Bernice Bouillon and her family donated the building to Marion County Public Schools in 2005. The schoolhouse was moved to the museum grounds in 2006 and restored to reflect a segregation-era school dating to about 1945.
Pottery Kiln
The Silver River Museum wood-fired pottery kiln is a "manabigama" design and is one of the only kilns like it in Florida. Traditional folk pottery forms such as bowls, crocks and jugs are made by resident potter Deborah Sands. Construction was completed in 2017 and the kiln is fired an average of six times per year (and always during special events like Ocali Country Days). In addition, art students from local high schools have the opportunity to fire their work in the kiln and gain valuable experience with the wood fired pottery process. Deb's pottery makes a wonderful addition to any home and is available in the museum Gift Shop.